I have successfully run open loop boost control for several years. I have Map1 and Map2 with different Boost By Gear targets.
I am trying to get MAP2 to be Closed Loop instead.
To aid testing, I`ve set the target to be 1.05Bar everywhere (205kpa on the log)
Driving on Map1, the Turbo Solenoid matches the MAP1 base duty table, here is MAP2 base duty table
Full throttle, duty rises to 100% initially to aid spool then starts dropping once boost is made, 0.8Bar at 3,500rpm.
On the lower trace, MAP2Switch is Yellow, Turbo Duty Cyan.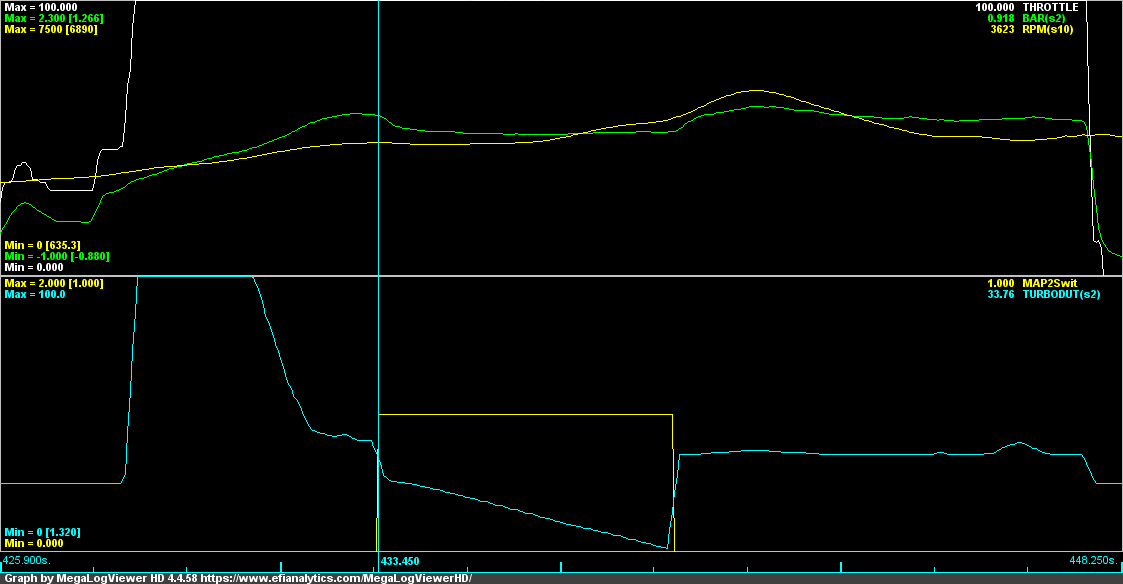 As SOON as I switch to Map2, the duty starts dropping to Zero which obviously causes the boost to fall. As soon as I switch back to MAP1, the duty rises again to match the Map1 settings and the boost rises.
This is repeatable everytime I switch to MAP2. Obviously, I have something wrong in the PID settings, but I have no idea what.
Does anyone have working Closed Loop Boost control and you could share your Turbo Parameters please ?